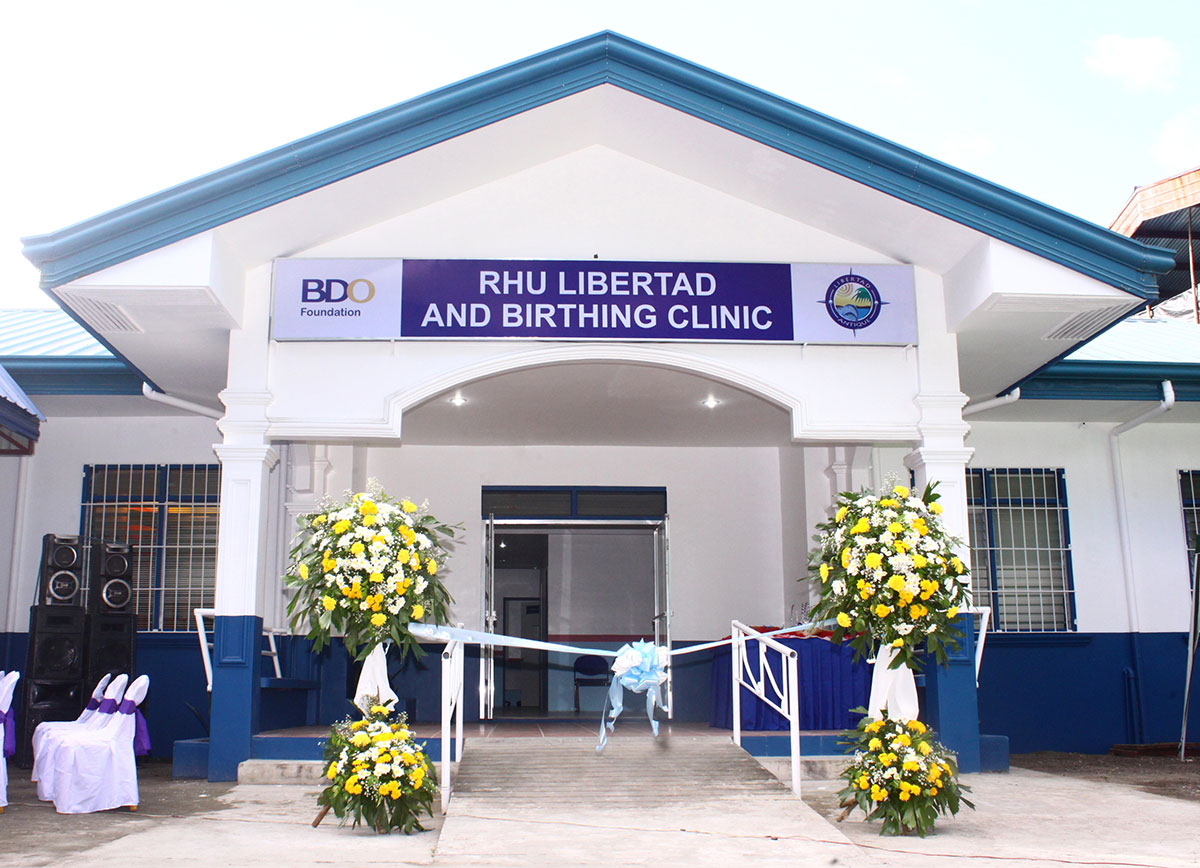 Photo caption: BDO Foundation's corporate citizenship initiative in Antique is aimed at improving the delivery of primary healthcare services to underprivileged patients.
Two rural health units in the remote and underserved municipalities of Tibiao and Libertad in the province of Antique are now ready to serve their respective constituents more effectively. The Tibiao Rural Health Unit and Rural Health Unit Libertad and Birthing Clinic, which were recently rehabilitated by BDO Foundation, would benefit a total of more than 46,000 people.
Speaking on behalf of the community at the inauguration of the health center in Tibiao, municipal health officer Dr. Rue Joanna Espanola said, "We are very blessed to be a beneficiary of BDO Foundation. Thank you for rehabilitating our health facility. Rest assured we will give back to the community by improving our health services to our fellow Tibiaoanons."
Libertad municipal health officer Dr. Teresita Escondo echoed these sentiments, saying, "Our health personnel are eager to perform their duties at the newly rehabilitated health center. We will take care of the facilities and make sure that our constituents will be served efficiently. Mabuhay, BDO Foundation!"
The rehabilitated rural health units were turned over to local government leaders in inaugural ceremonies led by BDO Foundation president Mario Deriquito, BDO Foundation program director Rose Espinosa and BDO Antique branch head Tony Villavert. Also in attendance at the events were officers of One Network Bank, the rural bank subsidiary of BDO, in Antique.
BDO Foundation renovated the rural health units' offices, lobbies and waiting areas, consultation and treatment rooms, pharmacies and birthing facilities. New furniture and fixtures were installed. Breastfeeding stations, play areas with books and toys for children, and waiting areas for senior citizens were also built. These improvements are expected to benefit 40 barangays.
Tibiao Rural Health Unit and Rural Health Unit Libertad are among the 50 health centers improved by BDO Foundation so far as part of its ongoing rehabilitation program in calamity-stricken provinces. The program is in line with global and national goals to support maternal healthcare, promote the health and well-being of people of all ages, and improve the healthcare delivery system in the country.