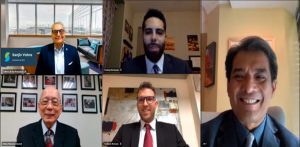 (top, left to right) Sanjiv Vohra (President & CEO, Security Bank), Frederick Brindopke (Associative Director for Executive Projects, Operation Smile International;(bottom, left to right) Roberto Manzano (Country Director of Development, Operation Smile Philippines), Emiliano Romano (Executive Director, Operation Smile Philippines); (rightmost) Wigbert Dennis Funtanilla (President, Operation Smile Philippines)
Security Bank Corporation and Operation Smile recently held a virtual signing ceremony to formally seal their partnership to build awareness and launch education initiatives for children born with cleft lip and palate. 
Cleft lip and palate occur when a child's lip or mouth do not form properly during pregnancy. This typically causes children to experience problems with feeding or speech, develop ear infections and facial deformities, and in severe cases, heart problems. 
Operation Smile is a volunteer-based non-profit organization that provides surgical care for patients in their communities, donates essential medical equipment and supplies, and conducts health education programs. 
With the partnership, Security Bank and Operation Smile will launch several education and training programs intended to raise the quality of life of Filipinos with cleft and their families. Among these initiatives are the Cleft Infomercials and Nutrition Pilot Program.  The Cleft Infomercials will raise awareness on the causes of the congenital defect, its prevention and access to treatment to help educate expectant mothers and parents of children with clefts. Meanwhile, the Nutrition Pilot Program, an innovative intervention program, will enable children with cleft to attain the best possible health condition required for surgery and help mothers avoid succeeding cleft births through the provision of healthy food and supplements as well as educational materials on early childhood nutrition.
"We look forward to collaborating on initiatives to cater to the total well-being of cleft lip and palate patients and their loved ones," said Security Bank President & CEO Sanjiv Vohra. "This means a lot to us, and to me, personally. I am confident that together, we can make things better for many Filipinos, not just for now, but for many years to come."
Security Bank has been advocating for education and implementing corporate social responsibility (CSR) programs focused on entrepreneurship, community engagement and the environment, together with its CSR arm, Security Bank Foundation, Inc. (SBFI).