As part of joint efforts to promote financial inclusion, BDO Foundation, the Department of Education (DepEd) and Bangko Sentral ng Pilipinas (BSP) began the regional launches of a financial literacy program tailored for learners, teachers and DepEd's non-teaching personnel.
The partners unveiled the Financial Literacy Program for Schools in Calabarzon during DepEd Region IV-A's Gawad Patnugot 2018 ceremony in Sta. Rosa, Laguna. The event was led by DepEd Calabarzon regional director Dr. Diosdado San Antonio, DepEd Calabarzon assistant regional director Dr. Carlito Rocafort, BSP Inclusive Finance Advocacy Office managing director Pia Roman Tayag, BDO Foundation president Mario Deriquito and BDO Foundation program director Rose Espinosa.
The finlit initiative was also launched in Region VII at a gathering of education officials in Cebu City spearheaded by DepEd Region VII regional director Dr. Juliet Jeruta, DepEd Region VII assistant regional director Dr. Salustiano Jimenez, BSP Cebu Regional Office director Atty. Leonides Sumbi and the aforementioned BDO officers.
At both events, BDO Foundation, the corporate social responsibility arm of BDO Unibank, distributed LED television sets and USB memory drives to schools division superintendents as part of the nationwide deployment of the program. The memory drives contain the first batch of five financial literacy videos produced by the foundation in collaboration with DepEd and BSP. All the videos and discussion guides will be uploaded on DepEd's learning resources portal and will be accessible to all public school teachers nationwide.
The educational videos were designed to make lessons on savings and personal finance engaging and compelling for teachers, non-teaching personnel and students. Accompanied by discussion guides and lesson plans developed by DepEd master teachers, the videos will be used in classroom instruction as well as DepEd's Teacher Induction Program, learning action cells and regular training and development programs. Currently underway is the development of the second batch of financial literacy videos on such topics as budgeting, financial management, investing, avoiding scams and the responsible use of credit.
The Financial Literacy Program for Schools is BDO Foundation's flagship corporate citizenship initiative under its financial inclusion advocacy. The program is aimed at supporting DepEd's efforts to strengthen financial education in its K-12 curriculum and training programs for teaching and non-teaching personnel. It also contributes to the pillar on Financial Education and Consumer Protection of BSP's National Strategy for Financial Inclusion.
The initiative is expected to benefit as many as 700,000 teachers and 24 million students in more than 47,000 public schools nationwide. By sharing lessons on financial responsibility with educators and the Filipino youth, the partners hope to develop a financially literate citizenry and contribute to nation-building.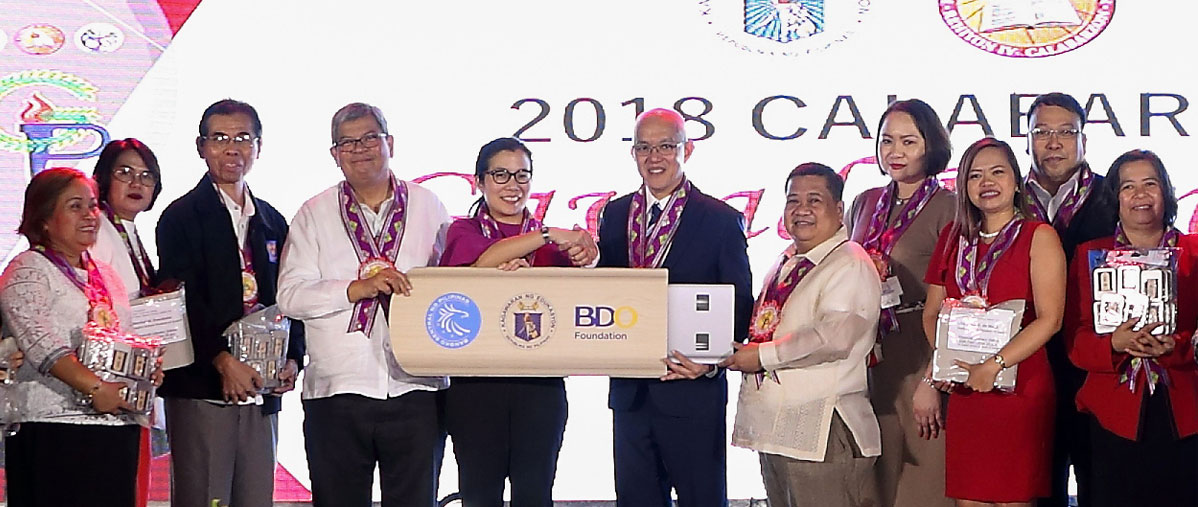 Calabarzon schools division superintendents, led by DepEd Region IV-A regional director Dr. Diosdado San Antonio, accept the financial literacy videos, LED television sets and USB memory drives turned over by BSP and BDO Foundation.