The Bankers Association of the Philippines shared its insights and expertise on cybersecurity during a June 8 online forum held with the Supreme Court of the Philippines.
The forum was about equipping employees of the judiciary with the skills they need to be safe in cyberspace. During his speech, BAP President Antonio C. Moncupa Jr. noted the various cybersecurity-related challenges every sector in society is facing today.
"Hacktivists are also seeking to put pressure on institutions through defacing official websites. Data breaches continue to be a threat to institutions, clients, and their stakeholders," he said. "To address these malicious activities and enforce data privacy, we encourage the adoption of best practices, tools, and methods promoting cybersecurity."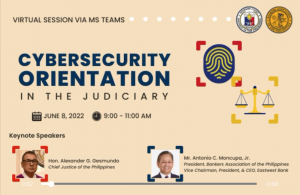 Trends on cybersecurity are not new for the banking industry. In response to the need to promote cybersecurity among the Filipino public, the BAP recently held a CyberSafe campaign — a wide-ranging initiative with various stakeholders such as social media influencers, radio and print media, and BAP member-banks to educate Filipinos on what they should do to have a safe banking experience.
In light of the CyberSafe campaign, the BAP also signed a Memorandum of Understanding with the Department of Justice under which the organization will train government prosecutors to hold cybercriminals accountable for their actions.
Moncupa stressed that for the Filipino public to be safe in cyberspace, everyone needs to work together by knowing how to protect themselves, such as being able to detect signs of cybercrime. This will allow the public to continue enjoying the benefits of technological advancements, according to the BAP President.
"This effort to digitize the judiciary complements the government's push towards delivering efficient and secure services to the public. To protect the entire system, we begin by protecting and capacitating the individual nodes that comprise it, and that is where you as individuals come into the grand scheme of endeavors towards cybersecurity," Moncupa said.
Other speakers of the event include: